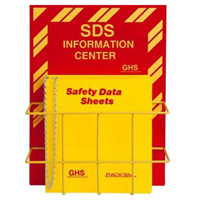 Ensure that your MSDS collection is "readily accessible" with these handy compliance centers from Safety Emporium.
Regardless, OSHA was forced to revert to the older limits. This case clearly established that to set new PEL's OSHA would need to collect specific evidence for each substance so the risk/benefit analysis could be reviewed, and the resources required for that have never been made available and likely never will be available. More information on this legal case can be found under Further Reading below.

In theory, OSHA is continuing to perform risk assessment and feasibility analysis on air contaminants in light of this court ruling, using a risk-based prioritization to identify those substances which have the most significant impact on worker safety. But in the years since this ruling, OSHA has enacted or updated PEL's for just a handful of substances.

Just to confuse matters, this decision did not directly apply to the states and territories which administer their own OSHA-approved plans. Some of these states may retain the 1989 limits. Therefore, to maximize safety and minimize potential legal problems, it is best to compare the 1989 PELs for these substances with the ACGIH limits (TLV's), and comply with which ever is most protective.

Therefore, vacated PEL values may still appear on MSDS's because some states may have enacted statutes based on their values and because some employers or employees might prefer their larger margin of safety (or error, depending on your perspective) when setting their workplace exposure limits. Whatever values you find, always err on the side of safety and choose the lower one. Remember we always want to keep chemical exposures as low as reasonably achievable (ALARA).