In Canada, every material covered by WHMIS (Workplace Hazardous Materials Information System) must have an accompanying SDS. Canada is in the midst of phasing in its conversion to the Globally Harmonized System (GHS) through 2018. However, the GHS is model system, and the implementation varies from country to country, so a US SDS prepared according to the US's GHS regulation, HCS 2012, may not be sufficient for compliance in Canada.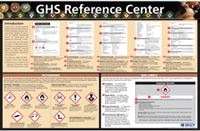 Get your
GHS-compliant labels, posters and signs
from Safety Emporium.
In general, the Canadian regulations covering SDS's tend to be a bit more specific and strict than the U.S. OHSA's. See the references in our WHMIS entry for more detailed information, information in other languages, and useful web links.
Before Canada incorporated the GHS into WHMIS, SDS's had to be updated every three years. Under the current WHMIS system, the SDS must be accurate at the time of every sale or importation of the hazardous product. Suppliers have an ongoing responsibility to make sure SDSs and labels are accurate and compliant. OSHA only requires an update to an SDS within three months of a change in formulation or health information (see the Compliance section of this FAQ), a small but significant difference.
Another major difference is in the Hazardous Ingredients/Identity Information. The WHMIS rules of exposure tend to be much more specific and strict then OHSA. For instance, WHMIS requires the % concentrations of hazardous ingredients be disclosed on the SDS (unless exempted at the time of registration with the HMIRC). Also, there is a difference in the exposure limit and/or toxicological information. OSHA requires PEL and TLV to be listed while WHMIS requires the TLV as well as the LD50 value (NOTE: we have not double checked if these have come into alignment under the most current regulations).
The rest of the sections are more or less the same (there are a few tiny differences). An ISSA Alert Sheet has some more details.
Finally, note that Canadian SDS's are required to be supplied in both English and French, as these are both official languages in Canada. These can be two different sheets, or both languages can be on one sheet.
For more information about Canadian SDS requirements, see OSH Answers Fact Sheets at the Canadian Centre for Occupational Health and Safety (CCOHS).
September 1, 2016: OSHA and Health Canada announced an update plan to align labelling and classification requirements for hazardous workplace chemicals. The ultimate goal of this initiative is to devise a system, accepted by both countries, that allows the use of one label and one safety data sheet.