Definition
The Globally Harmonized System of Classification and Labeling of Chemicals (GHS) is an international consensus system developed by the United Nations for classifying and labeling hazardous chemicals. The GHS is designed to streamline the hazard assessment, labeling, and hazard communication requirements within and between the countries that adopt it by promoting common, consistent criteria for classifying chemicals according to their health, physical and environmental hazards, and to develop compatible labeling, safety data sheets (SDS's; formerly known as MSDS's) and other information based on those classifications.
GHS resolves many, but not all, differences between (M)SDS's and labels between, for example, the US, Canada, and the European Union.
OSHA adopted many (but not all) GHS Revision 3 principles in its most recent update to 29 CFR 1910.1200, the OSHA Hazard Communication Standard. Implementation of HCS 2012 was phased in and took full effect in 2016. The previous version, HCS 1994, is no longer in force.
Additional Info
US Rulemaking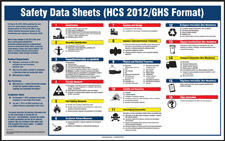 Ensure your workers are trained with safety posters and more at Safety Emporium.
The first regulatory movement towards adapting elements of US OSHA requirements to the GHS began with an Advanced Notice of Proposed Rulemaking (ANPR) on September 12, 2006. A 60 day comment period received over 100 written and electronic comments which generally supported adoption and highlighted the need for harmonization in how chemicals and their hazards are classified in a worldwide marketplace.
On September 30, 2009, OSHA published its proposed rulemaking to incorporate changes per the GHS (US Federal Register 74:50279-50549). You can view this document in HTML on OSHA's web site or download it as PDF file from the US Government Printing Office. The Public Comment period ended December 29, 2009 and gathered several hundred written comments that are available here.
On October 25, 2011, OSHA submitted the final rule to OMB which finished its review on February 21, 2012. On March 20, 2012, OSHA published its Final Rule establishing HCS 2012, which included a phased in series of effective dates which were:
Effective Date
Requirement(s)
Who
December 1, 2013
Train employees on the new label elements and safety data sheet (SDS) format.
Employers
June 1, 2015
Compliance with all modified provisions of this final rule.
Chemical manufacturers, importers and employers
December 1, 2015
The distributor must not ship containers labeled by the chemical manufacturer or importer unless it is a Hazard Communication standard (HCS) 2012 label.
Distributors*
June 1, 2016
Update alternative workplace labeling and hazard communication program as necessary, and provide additional employee training for newly identified physical or health hazards.
Employers
Transition Period
May 26, 2013 - June 1, 2016
May comply with either HCS 2012 or the previous version (HCS 1994), or both.
Chemical manufacturers, importers, distributors, and employers
* If the distributors meet the definition of manufacturers (see section X.C. of OSHA Directive Number CPL 02-02-079), which includes repackaging and relabeling the chemicals, they must comply by June 1, 2015.
It is critical to recognize that HCS 2012 is based on Revision 3 of the GHS. The GHS is updated on an ongoing basis. In 2021, UNECE published Revision 9 which introduced a significant number of changes that will probably not make their way into US regulations for many years.
On February 5, 2021, OSHA issued a proposed rule to update the HCS to align with 2017 Revison 7 of the GHS. The public comment period for this proposal ran February 16 through May 19, 2021. The proposed changes are listed under Docket No. OSHA-2019-0001 and include revised criteria for classification of certain health and physical hazards, revised provisions for updating labels, new labeling provisions for small containers, technical amendments related to the contents of Safety Data Sheets, and related revisions to definitions of terms used in the standard. It appears that OSHA is currently targeting March 2023 for implementation as a Final Rule.
Impact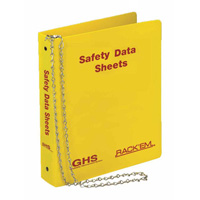 Get your SDS binders, centers and more from Safety Emporium.
As stated above, GHS is a model standard and implementation from country to country will vary. For example, OSHA's HCS currently covers acute toxicity with respect to (M)SDSs. The GHS's coverage of acute toxicity is quite broad, covering consumer protection in addition to occupational concerns. As OSHA has no regulatory authority for consumer issues/products, the HCS will never be able to incorporate all the changes to acute toxicity that the GHS suggests. This does not stop other Federal agencies such as the Consumer Product Safety Commission from enacting such legislation under their own purview, however.
Other US agencies affected by the GHS include:
In the European Union (EU), Safety Data Sheets (SDS) and labels issued prior to June 1, 2015 were required to use a uniform coding system of risk phrases and safety phrases to communicate risks and precautions. The phrases are accompanied by numbers so the phrases can be easily translated or understood in multiple languages. The GHS takes a similar approach but risk phrases and safety phrases have been replaced(see Annex 3 Section 1). Risk phrases have become Hazard Statements ("H-statements") and safety phrases are now Precautionary Statements ("P-statements"). The EU transition required modifications and additions to the existing R- and S-phrases and introduced a new numbering system for the P- and H-statements. Note: regardless of system, phrases must always be written out in words; the numbers are provided as a reference only and should never be used as a substitute for the full phrases.
A sampling of GHS resources for other countries includes:
A detailed implementation list for 72 countries is available at https://unece.org/ghs-implementation-0.
A 2021 article from ACS Chem Health Saf. titled GHS Implementation to Strengthen Global Chemical Hazard Communication: Will We Ever Get There? discusses the challenges of worldwide implementation of the GHS, including the use of different data sets for hazard classification.
SDS Relevance
The major changes under HCS 2012 versus the old standard are:
A comparison of the 1994 and 2012 HCS is available which strikes out the old language in red, inserts new language in green, and has additional commentary on each section.
Finally, as mentioned above, OSHA lacks jurisdiction over several areas that the GHS addresses. Therefore, while the new SDS format includes the following new sections:
12. Ecological information
13. Disposal considerations
14. Transport information
15. Regulatory information
these sections are "non-mandatory". OSHA requires only that these headings appear on the sheet but do not require that any information be entered under sections 12 through 15.
Further Reading
See also: ACGIH, ANSI, CFR, Hazard Statements, Precautionary Statements, risk phrases, safety phrases, UN/NA Numbers.
Additional definitions from Google and OneLook.
---
Entry last updated: Monday, January 16, 2023. This page is copyright 2000-2023 by ILPI. Unauthorized duplication or posting on other web sites is expressly prohibited. Send suggestions, comments, and new entry desires (include the URL if applicable) to us by email.
Disclaimer: The information contained herein is believed to be true and accurate, however ILPI makes no guarantees concerning the veracity of any statement. Use of any information on this page is at the reader's own risk. ILPI strongly encourages the reader to consult the appropriate local, state and federal agencies concerning the matters discussed herein.