Definition
Dermatosis (plural: dermatoses) is a broad term that refers to any disease of the skin, especially one that is not accompanied by inflammation.
Do not confuse this term with dermatitis, which is limited to inflammation of the skin.
Additional Info
There are over two dozen specific types of reactive and inflammatory dermatoses; see this list at healthline.com for more information about specific types.
Dermatosis can have many causes, including allergic reactions to common metals such as nickel (found in jewelry) or cobalt, fragrances, and topical antibiotics. Formaldehyde can also cause dermatitis/dermatosis, and it is a sensitizer as well, meaning that it can make your body or skin sensitive or allergic to substances that previously presented no problems.
The mechanism by which a particular chemical causes dermatosis/dermatitis can vary. For example, some substances cause a "simple" allergic reaction, whereas prolonged exposure to hydrocarbon solvents can leach the natural oils from your skin and lead to irritation, dryness, cracking and/or redness.
Books Available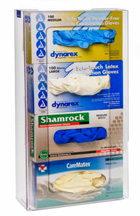 Encourage your workers to wear their gloves with stylish
safety dispensers
from Safety Emporium.
SDS Relevance
Dermatosis typically appears as a symptom of exposure or potential hazard in Section 11 (toxicological information) of a material's Safety Data Sheet
Failure to use proper skin protection (gloves, aprons etc.) can result in irritation or even poisoning by absorption of the material through the skin. Always use properly selected gloves and appropriate protective clothing when working with hazardous materials. Section 8 (exposure controls/personal protection) of the SDS should provide proper guidance.
Further Reading
See also: dermal, dermal toxicity, dermatitis, erythema, urticaria.
Additional definitions from Google and OneLook.
---
Entry last updated: Sunday, July 10, 2022. This page is copyright 2000-2023 by ILPI. Unauthorized duplication or posting on other web sites is expressly prohibited. Send suggestions, comments, and new entry desires (include the URL if applicable) to us by email.
Disclaimer: The information contained herein is believed to be true and accurate, however ILPI makes no guarantees concerning the veracity of any statement. Use of any information on this page is at the reader's own risk. ILPI strongly encourages the reader to consult the appropriate local, state and federal agencies concerning the matters discussed herein.