Definition

Get your DOT placards and labels at Safety Emporium.

A combustible material can be a solid or liquid.

The U.S. Occupational Safety and Health Administration (OSHA) defines a combustible liquid as "any liquid having a flash point at or above 100 deg. F (37.8 deg. C), but below 200 deg. F (93.3 deg. C), except any mixture having components with flashpoints of 200 deg. F (93.3 deg. C), or higher, the total volume of which make up 99 percent or more of the total volume of the mixture."

Compare this definition to flammable, which indicates a liquid that is even easier to ignite (flash point below 100 oF).

OSHA divides combustible (and flammable) liquids into several classes. If you'd like to see these, take a look at 29 CFR 1910.106.

Combustible solids are those capable of igniting and burning. Wood and paper are examples of such materials.

Additional Info

Posters for the safe handling of flammable and combustible liquids are available at Safety Emporium.

The U.S. Department of Transportation defines a combustible solid in 49 CFR 173.124 (Subpart D) as materials that:
Are solids which may cause a fire through friction, such as matches;

Show a burning rate faster than 2.2 mm (0.087 inches) per second when tested in accordance with UN Manual of Tests and Criteria; or

Any metal powders that can be ignited and react over the whole length of a sample in 10 minutes or less, when tested in accordance with UN Manual of Tests and Criteria.
These are closely related to the third broad class of materials listed under flammable solids.

Spontaneously combustible materials can undergo combustion and burn without the addition of heat or flame; arguably, the term "spontaneously flammable" is more appropriate. See the flammable solids entry for more info.

NFPA 30 is the NFPA's Flammable and Combustible Liquids Code. You can purchase a copy from their web site. Your state and local fire codes are likely to be based in part on this standard; consult with your local fire marshal if you ever have code compliance questions.
SDS Relevance
Proper storage and use of combustible materials is absolutely critical in maintaining a safe work place. Avoid placing or using combustible materials near sources of heat or flame (direct sunlight, furnaces, pilot lights etc.). Use caution when disposing of combustible materials such as linseed oil-soaked rags (which can spontaneously combust). When dispensing combustible or flammable liquids, keep in mind that static electricity poses a very real threat; obey all standard bonding and grounding practices.

Also note that many common dusts such as flours, and grains can readily combust or even explode. See our dust entry for additional information.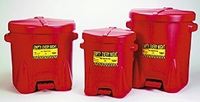 Safety Emporium carries oily waste and other safety cans that comply with OSHA regulations.
Further Reading
See also: decomposition, flammable, flammable solid, flash point, temperature units.
---
Entry last updated: Monday, August 22, 2016. This page is copyright 2000-2017 by ILPI. Unauthorized duplication or posting on other web sites is expressly prohibited. Send suggestions, comments, and new entry desires (include the URL if applicable) to us by email.
Disclaimer: The information contained herein is believed to be true and accurate, however ILPI makes no guarantees concerning the veracity of any statement. Use of any information on this page is at the reader's own risk. ILPI strongly encourages the reader to consult the appropriate local, state and federal agencies concerning the matters discussed herein.