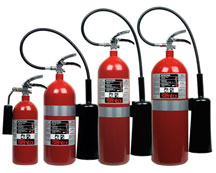 Get your CO
2
extinguishers at
Safety Emporium
Definition
Carbon dioxide is a colorless, odorless, faintly acidic-tasting, and non-flammable gas at room temperature. Solid carbon dioxide, also known by the trade name Dry Ice, sublimes (converts directly from a solid to a gas) at -78 oC (-109 0F) or above.
Carbon dioxide is a molecular solid with a molecular formula CO2. The linear molecule consists of a carbon atom that is doubly bonded to two oxygen atoms, O=C=O.
Note: Although both are common products of combustion, DO NOT confuse non-toxic carbon dioxide with deadly poisonous carbon monoxide.
Additional Info
Carbon dioxide is the fourth most-abundant gas in the Earth's atmosphere. Animals exhale carbon dioxide and plants use photosynthesis to convert it to sugars and other forms of energy.
Commercially, carbon dioxide has thousands of uses. The most familiar example is its use to carbonate soft drinks and beer. It also finds use in a technology called supercritical fluid extraction that is used to decaffeinate coffee. Dry Ice is used in theatrical productions to make stage fogs and make "magic potions" bubble as demonstrated on the right.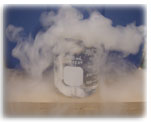 A common misconception is that carbon dioxide is a visible gas. The white mist that one sees around solid carbon dioxide is actually water vapor that has condensed from the air. The discharge from a carbon dioxide fire extinguisher is white partly due to condensed water vapor and partly due to solid CO2 "snow" which quickly sublimes into invisible carbon dioxide gas.
Carbon dioxide dissolves slightly in water to form a weak acid called carbonic acid, H2CO3:
CO2 + H2O

H2CO3
Carbonic acid reacts slightly and reversibly in water to form a hydronium cation, H3O+, and the bicarbonate ion, HCO3-:
H2CO3 + H2O

HCO3- + H3O+
This chemical behavior explains why water, which normally has a neutral pH of 7 has an acidic pH of approximately 5.5 when it has been exposed to air. It also explains the burning/stinging sensation in your nose and eyes when you inhale too quickly from a freshly-opened container of soda pop; the gas quickly reacts with the water in your eyes and nose to form a small amount of carbonic acid.
The primary health dangers of carbon dioxide are:
Finally, note that carbon dioxide is a "greenhouse gas". Although it is naturally present in the atmosphere, Man's activities such as the combustion of fossil fuels have drastically increased the concentration of CO2 in the atmosphere and contributed to global warming.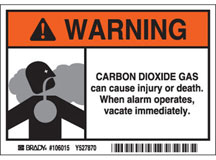 All rooms with fixed extinguishing systems must have
appropriate warning signs
like this one from Safety Emporium.
SDS Relevance
You are most likely to encounter carbon dioxide on an SDS in reference to fire fighting measures. Carbon dioxide extinguishers are not appropriate for all fires, especially those involving flammable metals and pyrophoric substances. Using a CO2 extinguisher on such fires would be very much like putting gasoline on a fire! For more information about fire extinguishers and a downloadable PowerPoint presentation, visit our Fire Extinguishers page.
If your company uses an automatic fire extinguishing system (such as in a computer room or where flammable organic solvents are used), critical precautions must be taken to avoid asphyxiation. Special signage and training is essential. See the DOE link under Further Reading below.
You may also find carbon dioxide mentioned as a decomposition product or as an incompatible material.
Further Reading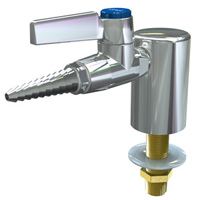 Supply of laboratory gases is a snap with
laboratory ball valves
from Safety Emporium.
See also: Asphyxiation, organic, vapor.
Additional definitions from Google and OneLook.
---
Entry last updated: Thursday, February 15, 2018. This page is copyright 2000-2019 by ILPI. Unauthorized duplication or posting on other web sites is expressly prohibited. Send suggestions, comments, and new entry desires (include the URL if applicable) to us by email.
Disclaimer: The information contained herein is believed to be true and accurate, however ILPI makes no guarantees concerning the veracity of any statement. Use of any information on this page is at the reader's own risk. ILPI strongly encourages the reader to consult the appropriate local, state and federal agencies concerning the matters discussed herein.