Get XtremeSorb spill materials here!
Jun 13, 2014
Mr. Ross Olsby
M3V Data Management
11925 East 65th Street
Indianapolis, Indiana 46236
Dear Mr. Olsby:
Thank you for your letter to the Occupational Health and Safety Administration's (OSHA) Directorate of Enforcement Programs. You requested guidance on replacing material safety data sheets (MSDSs) with newer safety data sheets (SDSs) under OSHA's revised Hazard Communication Standard, 29 CFR 1910.1200 (HCS 2012 ). This letter constitutes OSHA's interpretation only of the requirements discussed and may not be applicable to any questions not delineated within your original correspondence. Your questions have been paraphrased, followed by our response.
Question: When is an employer required to replace their MSDS collection with revised SDSs in order to be in compliance with HCS 2012? Would OSHA take enforcement action against employers who only have an MSDS available to employees?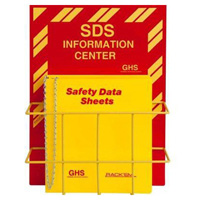 Your employees can stay informed and safety-ready with
right to know stations and labels
from Safety Emporium.
Response: OSHA's final rule modifying the Hazard Communication Standard (HCS) was issued on March 26, 2012, and it became effective on May 25, 2012 [77 FR 17574-17896]. Under 1910.1200(j)(2), manufacturers, importers, and distributors must be providing SDSs (instead of MSDSs) for all shipments of hazardous chemicals to employers and downstream customers by June 1, 2015. SDSs may be provided before this date; however, for any shipment of chemicals after June 1, 2015, an SDS in the required 16-section format must be provided.
All employers, per 1910.1200(g)(1) and 1910.1200(g)(8), must have, maintain, and make available to employees the most recent MSDS or SDS received from a chemical manufacturer, importer, or distributor for each hazardous chemical in the workplace. If the employer is not maintaining the most current MSDS or SDS received, then enforcement action may occur. However, OSHA would not issue citations for maintenance of MSDSs when SDSs have not been received. As OSHA explained in the January 31, 2013, letter to Mr. Joel Gregier employers may, but are not required to, contact manufacturers or distributers of products they have previously ordered to request new SDSs, and under 1910.1200(g)(6)(iv), the SDSs must be provided.
Thank you for your interest in occupational safety and health. We hope you find this information helpful. OSHA requirements are set by statute, standards, and regulations. Our interpretation letters explain these requirements and how they apply to particular circumstances, but they cannot create additional employer obligations. This letter constitutes OSHA's interpretation of the requirements discussed. Note that our enforcement guidance may be affected by changes to OSHA rules. Also, from time to time we update our guidance in response to new information. To keep apprised of such developments, you can consult OSHA's website at http://www.osha.gov. If you have any further questions, please feel free to contact the Office of Health Enforcement at (202) 693-2100.
Sincerely
Thomas Galassi, Director
Directorate of Enforcement Programs
---
Entry last updated: Tuesday, July 12, 2016. This hypermarked and content-enhanced page is copyright 2001-2022 by ILPI, all rights reserved. Unauthorized duplication or posting on other web sites is expressly prohibited. For questions, comments and concerns, please contact us at our MSDS email address.

The official, public domain, OSHA version of this document is available at http://www.osha.gov/pls/oshaweb/owadisp.show_document?p_table=INTERPRETATIONS&p_id=29330&p_text_version=FALSE