Get XtremeSorb spill materials here!
March 22, 2013
Mr. Dennis Morikawa
Morgan, Lewis & Bockius LLC
1701 Market Street
Philadelphia, PA 19103-2921
Dear Mr. Morikawa:
Thank you for your March 4, 2013, email to the Occupational Safety and Health Administration (OSHA) Directorate of Enforcement Programs. We apologize for the delay in responding to your earlier inquiry. Your questions concern specific sections of the labeling requirements under the revised Hazard Communication standard (HCS 2012 ), 29 CFR 1910.1200. This letter constitutes OSHA's interpretation only of the requirements herein, and may not be applicable to any questions not delineated within your original correspondence.Your paraphrased questions and our responses are below.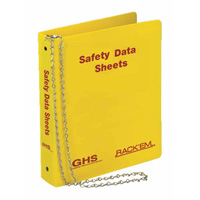 Get your

SDS binders, centers and more

from Safety Emporium.

Question 1: Can the web address for the company be used instead of a physical or mailing address on the required HCS 2012 label?

Response: No. While the web address for your company may provide contact information, many small businesses do not have ready access to the internet. Therefore, the address required by 29 CFR 1910.1200(f)(1)(vi) is the physical or mailing address for the manufacturer, importer or distributor. The web address for your company may be included on the label as supplemental information. It may serve as an additional manner to request and transmit information for those businesses that have internet access, but it cannot replace the physical or mailing address. Please see the August 31, 2009, letter to Ms. Peggy Haase concerning mailing addresses versus physical addresses, http://www.osha.gov/pls/oshaweb/owadisp.show_document?p_table=INTERPRETATIONS&p_id=27206.

Question 2: Must the legal name of the company (e.g., Airgas USA, LLC) be used on the HCS 2012 label or can the trade name (e.g., Airgas) be used instead?

Response: OSHA's requirement at [29 CFR 1910.1200(f)(1)(vi)] to include the name of the manufacturer, importer or distributor on the label and safety data sheet serves to ensure that downstream users know whom to contact if they have any questions. If the trade name of the company is recognizable to downstream users, then that name can be used on the label and safety data sheet (SDS). OSHA expects that the same company name (e.g., Airgas) would be used on the label and SDS. If it is difficult to associate the trade name on the label and the full legal company name on the SDS, it may potentially create confusion. This would not be compliant.

Thank you for your interest in occupational safety and health. We hope you find this information helpful. OSHA's requirements are set by statute, standards, and regulations. Our letters of interpretationdo not create new or additional requirements, but rather explain these requirements and how they apply to particular circumstances. This letter constitutes OSHA's interpretation of the requirements discussed. From time to time, letters are affected when the Agency updates a standard, a legal decision impacts a standard, or changes in technology affect the interpretation. To ensure that you are using the correct information and guidance, please consult OSHA's website at http://www.osha.gov. If you have further questions, please feel free to contact the Office of Health Enforcement at (202) 693-2190.

Sincerely,


Thomas Galassi, Director
Directorate of Enforcement Programs

Enclosure

[Corrected on 7/14/2014]
---
Entry last updated: Tuesday, July 12, 2016. This hypermarked and content-enhanced page is copyright 2001-2023 by ILPI, all rights reserved. Unauthorized duplication or posting on other web sites is expressly prohibited. For questions, comments and concerns, please contact us at our MSDS email address.

The official, public domain, OSHA version of this document is available at http://www.osha.gov/pls/oshaweb/owadisp.show_document?p_table=INTERPRETATIONS&p_id=29234&p_text_version=FALSE