Get XtremeSorb spill materials here!
Title: 05/24/2012 - MSDS Distributors
Record Type: Interpretation
Standard Number: 1910.1200
ILPI Notes: This interpretation is based on and references the HCS 1994 which is now obsolete. While some parts have been deleted or changed and the Field Operations Manual referenced herein is now obsolete, the conclusions of this interpretation appear consistent with the current HCS regulation.
May 24, 2012
Robb Boros
Patterson Companies, Inc.
Patterson Logistic Services, Inc.
1905 Lakewood Drive
Boone, Iowa 50036
Dear Mr. Boros:
Thank you for your January 27, 2012, email to the Occupational Safety and Health Administration (OSHA), Directorate of Enforcement Programs. Your email to a member of my staff requested clarification of OSHA's Hazard Communication standard (HCS), 29 CFR 1910.1200 [in context: HCS 1994 | current regulation: HCS 2012] , with respect to distribution companies' maintenance of material safety data sheets (MSDS). This letter constitutes OSHA's interpretation only of the requirements herein, and may not be applicable to any questions not delineated within your original correspondence. Your paraphrased questions and our responses are below.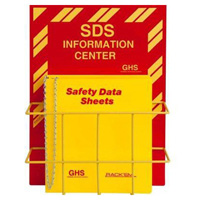 Your employees can stay informed and safety-ready with
right to know stations and labels
from Safety Emporium.
Background: On the May 27, 2004, OSHA wrote a letter of interpretation to Mr. Robert Perkins that stated, "Paragraph 1910.1200(g)(1) [in context: HCS 1994 | current regulation: HCS 2012] requires manufacturers, importers, and distributors of hazardous chemicals to provide MSDSs to downstream users with the initial shipment, the first shipment after updating the MSDS, and upon request. There is no requirement, under the HCS, however, for manufacturers to provide this information after the company goes out of business or ceases to manufacture a particular chemical."
Question 1: Based on this letter, if a distributor either ceases to stock an item or special orders an item that will not be stocked, does the distributor have to maintain that MSDS? For a special order, is the distributor responsible for providing the MSDS to the customer, even if the manufacturer ships directly to the customer?
Response: The distributor would not be required to maintain an MSDS for items it no longer stocks or for items that are shipped directly from a manufacturer to a customer. However, for special orders the distributor would be responsible for ensuring the customer received the MSDS at the time of the first shipment or the first shipment after the MSDS is updated, per 29 CFR 1910.1200(g)(7)(i) [in context: HCS 1994 | current regulation: HCS 2012]. If at another time the customer requests an MSDS that is not stocked, the distributor should assist the customer in obtaining an MSDS from the manufacturer.
Additionally, if an employee of the distributor is exposed to the hazardous chemical , for example while repackaging the material or if a spill occurred, the company would either have to maintain the MSDS with the employee exposure record or ensure the name of the chemical is maintained with the exposure record. This is a requirement of the OSHA standard, 29 CFR 1910.1020, Access to Employee Exposure and Medical Records.
[29 CFR 1910.1020(d)(1)(ii)(B)].
Question 2: Our company has subsidiaries with multiple sites for each subsidiary. Could you clarify OSHA's citation policy as to whether a company may be cited a repeat violation when they occur at different subsidiaries or sites?
Response: When performing an inspection, a compliance safety and health officer (CSHO) would follow OSHA's enforcement procedures in the Field Operations Manual (FOM), CPL 02-00-150 [now obsolete; view in context: CPL 02-00-150 | current regulation: CPL02-00-159]. The inspection would include an evaluation of the employer's reporting structure between subsidiaries and the parent company to determine whether a citation to one subsidiary should be used to cite another subsidiary for a repeat violation. In addition, an OSHA letter of interpretation to Mr. Patrick Cleary, dated July 13, 1999, references the case law for citing an employer for repeat violations at different locations. We have attached a copy of this letter for your convenience. OSHA citations, classification of violations, and penalty factors are discussed in more detail in the FOM, which is available on our website at www.osha.gov/OshDoc/Directive_pdf/CPL_02-00-150.pdf.* now obsolete; current procedure is CPL02-00-159 More recent information on OSHA's penalty factors can be found at [http://www.osha.gov/dep/enforcement/admin_penalty_mar2012.html].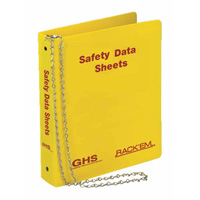 Get your
SDS binders, centers and more
from Safety Emporium.
You should also know that the State of Iowa is one of 27 U.S. States that operates its own occupational safety and health program under a plan approved and monitored by federal OSHA. Employers in the State of Iowa must comply with state occupational safety and health requirements. As a condition of plan approval, state plans are required to adopt and enforce occupational safety and health standards that are at least as effective as those promulgated by federal OSHA. State interpretations of its standards must also be as least as effective as federal OSHA interpretations. If you would like further information regarding Iowa's occupational safety and health requirements, you may contact Iowa's Occupational Safety and Health Enforcement at the following address:
Iowa Occupational Safety and Health Enforcement
Iowa Workforce Development
1000 East Grand Avenue
Des Moines, Iowa 50319-0209
Telephone: (515) 281-5387 or
(800) JOB-IOWA: (800) 562-4692
Thank you for your interest in occupational safety and health. We hope you find this information helpful. OSHA requirements are set by statute, standards and regulations. Our interpretation letters explain these requirements and how they apply to particular circumstances, but they cannot create additional employer obligations. This letter constitutes OSHA's interpretation of the requirements discussed. Note that our enforcement guidance may be affected by changes to OSHA rules. Also, from time to time we update our guidance in response to new information. To keep apprised of such developments, you can consult OSHA's website at http://www.osha.gov.
If you have any further questions, please feel free to contact the Office of Health Enforcement at (202) 693-2190.
Sincerely,
Thomas Galassi, Director
Directorate of Enforcement Programs
Attachment: OSHA's letter to Mr. Patrick Cleary, July 13, 1999.
[Corrected on 09/05/2013]
---
* Accessibility Assistance: Contact OSHA's Directorate of Enforcement Programs at (202) 693-2129 for assistance accessing PDF materials.
---
Entry last updated: Wednesday, July 13, 2016. This hypermarked and content-enhanced page is copyright 2001-2022 by ILPI, all rights reserved. Unauthorized duplication or posting on other web sites is expressly prohibited. For questions, comments and concerns, please contact us at our MSDS email address.

The official, public domain, OSHA version of this document is available at http://www.osha.gov/pls/oshaweb/owadisp.show_document?p_table=INTERPRETATIONS&p_id=28973&p_text_version=FALSE