In the scenario you describe, your employees would not normally have exposure. Batteries on a whole, although sealed, have the potential to leak, spill, or break during normal conditions of use and foreseeable emergencies and expose employees to sulfuric acid and lead. Additionally, they have the potential to generate hydrogen gas. Since your office employees are not required to maintain these batteries or use them as small UPS units, they would not normally have exposure and, therefore, would not be covered by the HCS.

However, the facility may have employees, such as maintenance workers, who access the area where batteries are stored. These employees, as well as the contractors who handle these batteries, are entitled to information regarding the hazards of exposure under the HCS. When this is the case, OSHA considers acid batteries to be hazardous chemicals (not articles) as they have the potential to rupture, spill, or leak. The employer, therefore, must obtain and maintain product Material Safety Data Sheets (MSDSs), ensure that the batteries are labeled, and have a written program which describes how the hazard information will be transmitted to other employers whose employees may be exposed.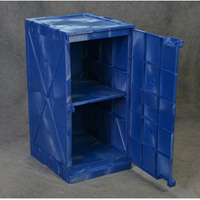 Get your corrosion-resistant polyethylene acid storage cabinets from Safety Emporium.